Guide to packing your shipment
When packing a shipment, it's best to start by defining the product. The 4 major factors to be evaluated here are the item's
Dimensions – Crucial for minimizing inventory and cost, item dimensions decide the size, material, and type of packing material to be used.
Fragility – Decides both the inner and outer layer of packaging materials to be used; cushioning requirements and box strength depend on fragility.
Weight– Tensile strength required for any box or flyer chosen will depend on the weight of the product it will carry.
Physical state–Whether the product is solid, liquid, gaseous or somewhere in between – their specific requirements will decide the layers of protection needed.
Start with the right material –
For non-fragile products below 4 kg, choose 3-ply corrugated boxe
For fragile or heavier than 4kg products, choose 5-ply corrugated boxes.
High value items – priced at above 7,000 – must be placed in tamper evident boxes.
Address specific requirements of the product.For instance, liquids need an additional layer of protection to prevent leaking.
Optimize dimensions –
Take edgecrush and burst factor loads into account when choosing the right box.
Make sure that box is utilized optimally according to product dimensions. There should neither be extra space nor negative constraints inside.
Quick Check –
Eliminate the risk of damage by checking the box for holes, tears, and crushed edges beforehand.
Or go with a flyer –
Tear proof, self-adhesive, and water resistant – flyers come handy in shipping non-fragile, flexible items such as apparels. They can also be used as an added layer of protection over boxes to prevent tampering and leaks.
The right material –
Only 60-80 microns hotmelt glue adhesive LDPE polybags guarantee complete safety.
High value items (over a value of Rs. 7,000) are best put in tamper evident polybags.
Quick Check –
Scan the flyers for tears, holes, and scratches. Seal the opening properly after packing.
Check for overloading. Flyer overload can impact its strength, making it susceptible to damage and your item prone to loss.
Packing the item –
Every item is shipped with two layers of protection. While the outer layer will be your box or flyer, internal packing takes care of leak proofing and cushioning.
For cushioning, choose –
Bubble wrap – Ideal for custom packaging, easy to use, cost-effective, and lightweight, bubble wraps are perfect for cushioning and proofing.
Foam sheets – Shipping delicate items with polished surfaces? Choose foam wrap to prevent scratching, scuffing, and rubbing.
For leak proofing –
Liquid items need to be leak proofed before they are cushioned. You can do that with –
Heat shrinks sleeves
Taping of bottle caps
Zip lock or leak-proof pouches
Once your external and internal packing has been finalized, turn your attention to sealing your shipment –
To secure your boxes and flyers and the items inside them, proper sealing is essential.
What to use –
Pressure Sensitive Tapes such as BOPP.
Where to put –
On the seams. Seal the top and bottom for light items.
On the edges. Heavier shipments need to be secured with H-taping, with tape on both the center and edges.
Finally, the last step, shipment labelling –
All packed and ready, now you have to ensure the shipment arrives at the right destination. Your item might see multiple stops along the way. To make sure it is transported to the correct touchpoints every time, equip it with the right information.
Do's –
Essential data –
Barcode height (min. size: 8 mm)
Waybill number and Barcode (min. size 8 MIL, 1MIL=0.2032mm)
Order number and Barcode (min. size: 8 MIL, 1MIL=0.2032mm)
Consignee address (min. font size: 8pts, Calibri body)
Return address (min. font size: 8pts, Calibri body)
Retail/Tax Invoice
The correct location –
In the center of one of the flat faces of the box/flyer.
The barcode and all essential data must be clearly readable on the label. This is crucial fast and correct processing of shipments.
The pocket containing the label should be taped close to the opening to prevent its loss.
Use expert-recommended thermal printed labels for shipping.
Don'ts –
Don't paste the label at the edges.
Don't paste the label with barcode over the seams. It can damage the barcode.
Don't use torn labels.
Don't use labels without waybill number and barcodes, they cannot be processed.
For some items, you might need to give specific instructions for handling of the shipment appropriately. Then, special handling labels are used. They include –
Fragile
Perishables
Dangerous goods
Package orientation
Keep dry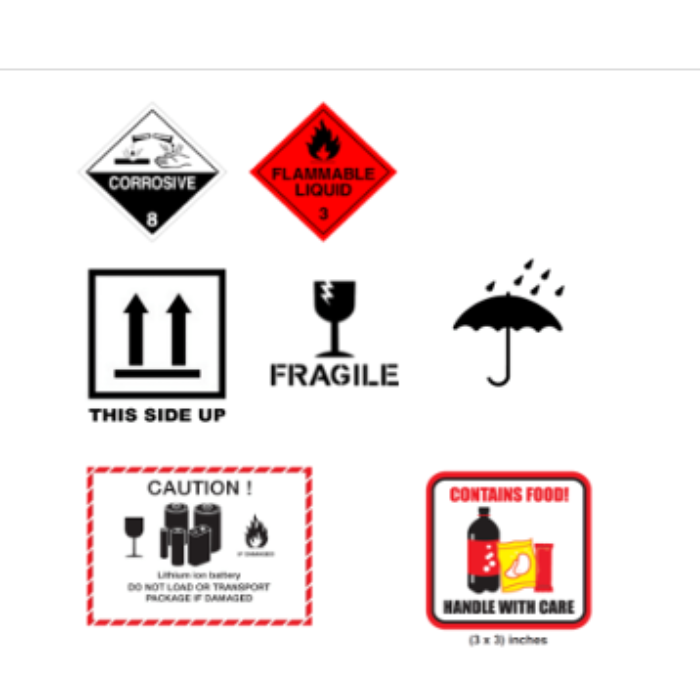 Spacial handling labels helps in communicating the necessary  information for appropriately handling the shipment.
Electronic items
Mobile Phones & accessories 
Tablets 
Laptop & computer accessories
Apparels
Flexible packing 
Rigid packing 


Others
Books & stationery 
Travel gears
Electronic items
Small home appliances
Power equipment
Industrial equipment
Fashion accessories
Jewelry
Watches
Fragile items 
Glassware 
Crockery 
Home decor
Liquid items
Beauty & Personal Care
Food products, Medicines 
Automotive